Finish Your B.A. in Management Online
Bring your potential to life.
Download a FREE Career Guide
To get yours and speak with a program manager about financial aid, complete the form below.
Note: All fields required.
Get on a Management Career Track
You're a natural-born leader with the ambition it takes to get to the top. With the online Bachelor of Arts in Management from Benedictine University, you'll build on those qualities by acquiring an enhanced set of skills and a keen understanding of business management and operations. Our flexible online format gives you the opportunity to earn your degree with minimal disruption to your job and family life. We also offer this program in a hybrid format if you prefer.
You could instantly get up to 18 credits based on your previous work experience. Once enrolled, you'll choose from two concentrations — Marketing or Human Resources Management, both of which focus on skill development in the areas of management and leadership, group behavior, accounting and economics, marketing and project management.
When you make the choice to earn your online degree from Benedictine University, you choose to not compromise. Your career stays on track as you balance online classes with work and you graduate with enhanced skills and a degree from a prestigious and historic university. Compromise is not in our vocabulary…nor should it be in yours.
BenU Ranked Among the Nation's Top Schools According to 2021 U.S. News & World Report's Best Colleges.1
For the third consecutive year, Benedictine University earned the 2020-2021 gold award for being a Military Friendly School designation.2
Benedictine University is regionally accredited by the Higher Learning Commission (HLC) of the North Central Association of Colleges and Schools (NCA).
Choose the Best Fit for Your Career Goals
The online B.A. in Management from Benedictine University provides a solid foundation of business and management principles such as accounting, business statistics, project management and more. As a result, you'll graduate confident in your abilities to maximize an organization's human capital and employ strategic leadership tactics. This program is offered in two concentrations to allow to focus on career specialization.
This track's curriculum is designed to ensure you know how to reach a target audience and deliver an effective corporate messaging strategy. You'll learn how people decide to make purchases and how to leverage that decision-making process to increase sales.
This concentration examines employee recruitment strategies, performance and appraisal management, compensation and benefits administration, and employment law.
Engage with Your Education
With a focus on usability and design, our online learning framework–Engage Learning Management System (LMS)—is built according to industry best practices and is always improving. It's easy to use, facilitates communication through live chat with faculty and classmates, and gives you an increased social presence.
Request Info
Connect to Your Future
Learning online may not feel like a traditional college experience because it's not. The curriculum mirrors that of an on-campus program and the professors are the same. But online learning gives you more say in how earning your degree fits into your already busy life. You determine how to balance your online program with work, family and other commitments. BenU gives you all the student support and career-related services you'd find on campus. Connecting to your future online may be the best choice for you.
A Curriculum That Builds Leaders
Earning an online B.A. in Management degree from Benedictine University takes commitment, foresight, ambition and a willingness to learn. It's no coincidence that these are also the qualities of leadership. As a BenU student, you are just not taught to lead–you're expected to. Our curriculum is designed and taught by experts in their respective fields. We provide a transformative and integrative educational experience that thoroughly prepares you for your career while helping you shape a life of meaning and purpose as an engaged citizen.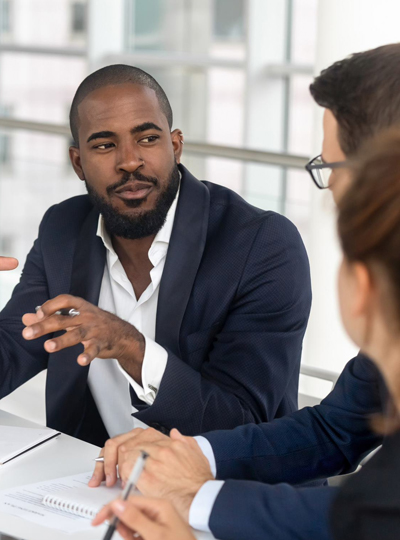 Be Prepared to Lead on Day One
In addition to serving as a stepping stone to an MBA program, the online bachelor's degree in Management from BenU can qualify you for a range of lucrative and satisfying careers upon graduation. Depending on your area of interest, you can pursue managerial positions in most industries, as marketing and human resources departments are necessary functions in almost any organization.
Average Salaries for Management Graduates3
Human Resources Manager: $70,210
Operations Manager: $70,739
Project Manager: $76,231
Human Resources: $88,248
Director of Operations: $98,158
Executive Assistant: $57,977
Sources
"Best Colleges," U.S. News & World Report. Retrieved on October 24, 2021, from https://www.usnews.com/best-colleges/benedictine-college-10256.
"Military Friendly Schools 2021–2022," GIJobs.com. Retrieved on October 24, 2021, from https://www/GIJobs.com.
"Bachelor's Degree–Management," Payscale.com. Retrieved October 26, 2021, from payscale.com/research/US/Degree=Bachlor_of_Science_(BS_%2F_BSc)%2C_Business_Management/Salary.