100% Online Bachelor's and Master's Degrees
Bring your potential to life.
Request More Information
Fill out the form below to receive information about tuition rates, admissions, courses, and more.
Academic Excellence and Flexibility in One
With more than 10 years as a leader in online education, Benedictine University offers accredited and recognized undergraduate, graduate and dual degree programs. Our already-affordable programs can be made even more so if you qualify for a one-time Graduate Merit scholarship toward your last class for select online programs.**
Prepare to achieve–and exceed– your career goals with a degree from an acclaimed, accredited university that has been a leader in excellence for more than 130 years.
When you make the choice to earn your online degree from Benedictine University, you choose to not compromise. Your career stays on track as you balance online classes with work and you graduate with enhanced skills and a degree from a prestigious and historic university. Compromise is not in our vocabulary…nor should it be in yours.
BenU Ranked Among the Nation's Top Schools According to 2021 U.S. News & World Report's Best Colleges.1
For the third consecutive year, Benedictine University earned the 2020-2021 gold award for being a Military Friendly School designation.2
Benedictine University is regionally accredited by the Higher Learning Commission (HLC) of the North Central Association of Colleges and Schools (NCA).
Advance Your Future from Anywhere
Earning an online degree from BenU means getting ahead without getting behind on work and family commitments. Flexibility is built into every online BenU program, as are outstanding instruction and relevant curricula.
30 credit hours
1-2 years
2 concentrations
Position yourself for high-level leadership roles with the Master of Business Administration (M.B.A.) online degree program from Benedictine University—a regionally accredited, established institution with over 130 years of history and a tradition of academic excellence.
43 credit hours
2 years
CEPH Accredited
It's an incredible feeling to live a life of service — to have touched the lives of many and to leave the world a better place. With Benedictine University's CEPH-accredited Master in Public Health (M.P.H.) degree online, you can potentially advance your career and expand your service in public health to help people worldwide live more healthy lives.
33 credit hours
1.5-2 years
2 concentration options
Benedictine University offers an online master's in nutrition — the Master of Science in Nutrition and Wellness. Taking just one class at a time, you can complete this unique curriculum in one and a half to two years. The advanced online nutrition degree combines nutrition science and wellness programming in a single online program, allowing you to build on existing knowledge and retool for new career opportunities in an ever-evolving work environment.
36-39 credit hours
2 years
CCNE Accredited
Benedictine's M.S.N. online curriculum aligns with the American Association of Colleges of Nursing outcomes expected of the master's prepared nurse, which emphasizes organizational and system-based leadership, healthcare technologies, advocacy, interprofessional collaboration, evidence-based practice, quality improvement and cultural awareness.
30-36 credit hours
2 years
No GRE/GMAT Required
Advance your career by gaining expertise in the human side of business. One of the first programs of its kind, Benedictine's online Master of Science (MS) in Management and Organizational Behavior has been paving the way to organizational excellence for nearly 50 years. This renowned degree program is now offered fully online in both accelerated and traditional formats, allowing busy professionals like you to become part of Benedictine's legacy of success and thought leadership.
98 credit hours
3.5 years
CEPH Accredited
The dual Master of Business Administration/Master of Public Health (MBA/MPH) online degree program aims to provide you with the skills and knowledge necessary to be a leader in public health.
96 credit hours
3.5 years
CEPH Accredited
The online Dual Master of Public Health/Master of Science in Management and Organizational Behavior (MSMOB) degree arms you with the knowledge and skills necessary to motivate organizational behavior change, identify areas for community health improvement and formulate strategic plans.
96 credit hours
3.5-4 years
Six elective areas
The online Master of Business Administration (MBA)/Master of Science in Management and Organizational Behavior (MSMOB) program combines the quantitative business expertise gained in an MBA with an understanding of human behavior and group interaction offered in our MSMOB program.
78 credit hours
3-4 years
CCNE Accredited
As a nurse, you already embody the Benedictine tradition of selfless service and sensitivity for those who are ill. Earning your Dual MSN/MBA from Benedictine University will help you become a servant leader who can skillfully guide healthcare staff and entire organizations through inevitable but unpredictable changes.
15 credit hours
Less than 1 year
This online certificate is designed for health care professionals who seek to participate in and influence policy development. Professionals in this field need the skills and knowledge to assess the adequacy of current practices and recommend appropriate changes based on societal needs, relevant laws and regulations, and cost effectiveness.
15 credit hours
Less than 1 year
The online Certificate in Health Education is a health education program designed to train you to participate in or lead health promotion activities, initiatives and programs for communities, private companies, schools and other settings. Examples of topics can include smoking cessation, nutrition and obesity, prenatal care, exercise, depression and mental health, and sexually transmitted diseases.
15 credit hours
Less than 1 year
The online Certificate in Epidemiology, available as a standalone graduate certificate or as a set of electives within the Council on Education for Public Health (CEPH) accredited Master of Public Health program, equips students to apply biostatistical and research methods to uncover the patterns, causes and effects of disease, and ultimately help solve public health issues.
The Benedictine University post master's nurse educator certificate program prepares the professional nurse who possesses a master's degree or higher in nursing with advanced knowledge and skills for educating students, healthcare providers, patients, and populations in clinical, community, industry, and academic settings. The curriculum is comprised of three 3-semester hour courses that promote synthesis of instructional design and technology, teaching and learning theory, curriculum development, and evaluation of learning with a focus on application to practice. The certificate meets the education requirements described in the National League for Nursing's eligibility criteria for the Nurse Educator credentialing examination.
Through Benedictine University's online Post-Master's Nurse Executive Leader Certificate, you'll gain advanced knowledge to pursue career advancement opportunities in nursing management and executive leadership. Designed to provide the education necessary to take the American Nurses Credentialing Center's Nurse Executive Advanced Certification exam, you will develop a dynamic skill set that combines communication and conflict resolution, nursing leadership develop and systems thinking, and financial management and resource allocation. The post-master's certificate program is ideal for master's or doctoral prepared nurses who seek advanced nurse executive leadership education.
34 major credit hours (120 total)
12 months
CCNE Accredited
Through Benedictine's online RN to BSN program, you won't just meet the needs of the growing healthcare field. You will build on your current knowledge and experiences, using real-life situations and application of evidence-based practice. Whether you have been working as a nurse for years or you're just entering the field, our program enhances the personal and professional development of the practicing nurse.
Engage with Your Education
With a focus on usability and design, our online learning framework–Engage Learning Management System (LMS)—is built according to industry best practices and is always improving. It's easy to use, facilitates communication through live chat with faculty and classmates, and gives you an increased social presence.
Request Info
Connect to Your Future
Learning online may not feel like a traditional college experience because it's not. The curriculum mirrors that of an on-campus program and the professors are the same. But online learning gives you more say in how earning your degree fits into your already busy life. You determine how to balance your online program with work, family and other commitments. BenU gives you all the student support and career-related services you'd find on campus. Connecting to your future online may be the best choice for you.
A Curriculum That Builds Leaders
Earning an online degree from Benedictine University takes commitment, foresight, ambition and a willingness to learn. It's no coincidence that these are also the qualities of leadership. As a BenU student, you are just not taught to lead–you're expected to. Our curriculum is designed and taught by experts in their respective fields. We provide a transformative and integrative educational experience that thoroughly prepares you for your career while helping you shape a life of meaning and purpose as an engaged citizen.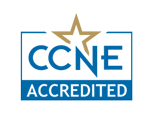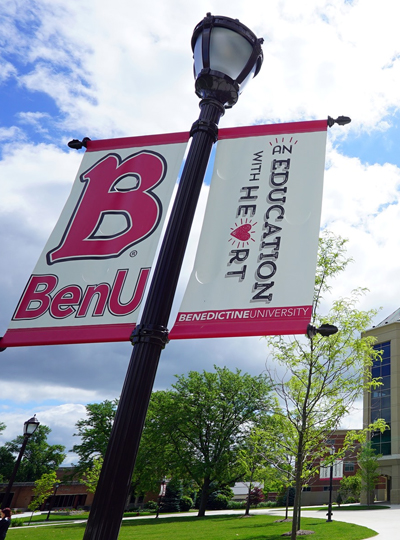 Take Your Career into Overdrive
Earning a college degree is one of the most vital steps you can take if your goal is to enjoy a successful, prosperous career. With technology and other factors changing industries at a quick pace, an online degree from Benedictine University prepares you with keen insight into your industry and the ability to anticipate and pivot as your field evolves in the coming years.
In addition to being a prerequisite for employment in many cases, a degree can boost your income considerably. In fact, according to the U.S. Bureau of Labor Statistics, people with a bachelor's degree earn around 64% more per week than individuals with a high school diploma, and about 40% more than those with an associate degree.3
Whichever online degree you earn from BenU, you will have a career-prep experience through learning opportunities such as:
Internships
Practicum experiences
Business simulations
Residencies
Mini capstone experiences
Sources and Disclaimer
"Best Colleges," U.S. News & World Report. Retrieved on October 24, 2021, from https://www.usnews.com/.
"Military Friendly Schools 2021–2022," GIJobs.com. Retrieved on October 24, 2021, from https://www.GIJobs.com.
"Employment Projections," U.S. Bureau of Labor Statistics. Retrieved on October 21, 2021, from https://www.bls.gov/.
*Terms and conditions apply. Complete the form for more information.
**Terms and conditions apply. The student must meet all scholarship eligibility criteria as stated on the Graduate Merit Scholarship Terms and Conditions. Tuition discounts cannot be combined as there are no dual discounts. Benedictine University reserves the right to approve or deny scholarships for any reason. Contact a Benedictine University Program Manager to learn more by filling out the form or calling 866-295-3104.
**Terms and conditions apply. The student must meet all scholarship eligibility criteria as stated on the Graduate Merit Scholarship Terms and Conditions. Tuition discounts cannot be combined as there are no dual discounts. Benedictine University reserves the right to approve or deny scholarships for any reason. Contact a Benedictine University Program Manager to learn more by filling out the form.