100% Online Master of Business Administration
Bring your potential to life.
Request More Information
Fill out the form below to receive information about tuition rates, admissions, courses, and more.
Position Yourself to Lead
The Master of Business Administration (MBA) online degree program from Benedictine University prepares you to lead organizations through the challenges of 21st-century business management. Our traditional online MBA program, taken one course at a time, take just two years to complete. Through our accelerated online MBA program, you can take two courses at a time and graduate in just a year.
While earning your online MBA, you can fortify your degree by adding an in-demand concentration option, choosing from either Digital Marketing or Project Management. Dual MBA program opportunities let you earn a simultaneously earn second graduate degree from BenU. Dual options include the MBA/Master of Public Health and MBA/Master of Science in Nursing.
When you make the choice to earn your online degree from Benedictine University, you choose to not compromise. Your career stays on track as you balance online classes with work and you graduate with enhanced skills and a degree from a prestigious and historic university. Compromise is not in our vocabulary…nor should it be in yours.
BenU Ranked Among the Nation's Top Schools According to 2021 U.S. News & World Report's Best Colleges.1
For the third consecutive year, Benedictine University earned the 2020-2021 gold award for being a Military Friendly School designation.2
Benedictine University is regionally accredited by the Higher Learning Commission (HLC) of the North Central Association of Colleges and Schools (NCA).
Customize Your Degree to Match Your Goals
The online MBA from Benedictine University is a powerhouse degree, particularly when complemented with one of two in-demand concentrations, or when paired with one of two focus areas for a dual master's degree.
Digital marketing uses social media platforms to engage your audience to build your brand. This curriculum covers topics such as increasing web traffic leads to impact sales, advertising on various platforms, publishing social media content, and listening to your audience.
With increasingly intense competition, businesses demand timely and cost-effective development plans. These courses offer you an understanding of organizational behavior, effective team-building skills, conflict management and resolution, as well as skills to effectively manage the financial side of projects.
Earn this dual degree in 24 courses — as opposed to the 33 courses that would be required if taking each individually. You'll learn leadership and ethics; project, operations and financial management; social and psychological determinants of health behavior; cultural, sociological and economic contexts of the American health care system and more.
The BenU online dual MSN/MBA degree pairs a comprehensive understanding of advanced nursing practice, with the managerial and critical thinking skills of business. The program is completed in just 23 courses, as opposed to the 26 courses that would be required if you take each degree separately.
Engage with Your Education
With a focus on usability and design, our online learning framework–Engage Learning Management System (LMS)—is built according to industry best practices and is always improving. It's easy to use, facilitates communication through live chat with faculty and classmates, and gives you an increased social presence.
Request Info
Connect to Your Future
Learning online may not feel like a traditional college experience because it's not. The curriculum mirrors that of an on-campus program and the professors are the same. But online learning gives you more say in how earning your degree fits into your already busy life. You determine how to balance your online program with work, family and other commitments. BenU gives you all the student support and career-related services you'd find on campus. Connecting to your future online may be the best choice for you.
A Curriculum That Builds Leaders
Earning an online MBA from Benedictine University takes commitment, foresight, ambition and a willingness to learn. It's no coincidence that these are also the qualities of leadership. As a BenU student, you are just not taught to lead–you're expected to. Our curriculum is designed and taught by experts in their respective fields. We provide a transformative and integrative educational experience that thoroughly prepares you for your career while helping you shape a life of meaning and purpose as an engaged citizen.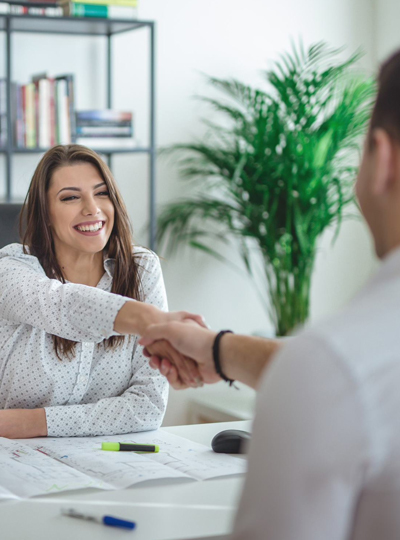 Take the Lead in a Prosperous Career
With an online MBA from Benedictine University, you are ready to entertain new opportunities and pursue career advancement well into your future. More than a credential, our MBA is a robust toolkit that allows you to approach business and management with insight, foresight and a wealth of knowledge. In 2020, the projected average starting salary for MBA grads was $79,043–about $20,000 higher than those who graduated with a bachelor's in business.3
Positions held by BenU MBA alumni include Executive Director, Chief Operating Officer, Senior Director of Marketing, Lead HR Director, Senior Development Manager and more.
The top promising positions for MBA. 4
Product Manager
Business Consultant
Medical and Health Services Manager
Financial Manager
Brand Marketing Manager
Sources
"Best Colleges," U.S. News & World Report. Retrieved on October 24, 2021, from https://www.usnews.com/.
"Military Friendly Schools 2021–2022," GIJobs.com. Retrieved on October 24, 2021, from https://www.GIJobs.com.
"Salary Survey: Winter 2020," National Association of Colleges and Employers. Retrieved on December 7, 2020, from https://www.wpi.edu/.
"5 Hot Jobs for MBA Graduates," U.S. News & World Report. Retrieved on December 7, 2020, from https://www.usnews.com/.